Enhanced CPD Pro
Enhanced CPD
Hassle-Free
---
The most effective way to manage your dental CPD - on any device
Works on all devices.
Access is free and immediate.
Why waste time?
PLAN >> DO >> REFLECT >> RECORD
PLAN
Intelligent Planning:
Turbocharge Your PDP with AI
---
Set your career aspirations, jot down your thoughts and watch the magic unfold. Our AI-powered PDP doesn't just listen - it helps you construct a comprehensive plan, offering clear intentions and a SMART pathway to goal achievement. Your journey to success just got a personal guide.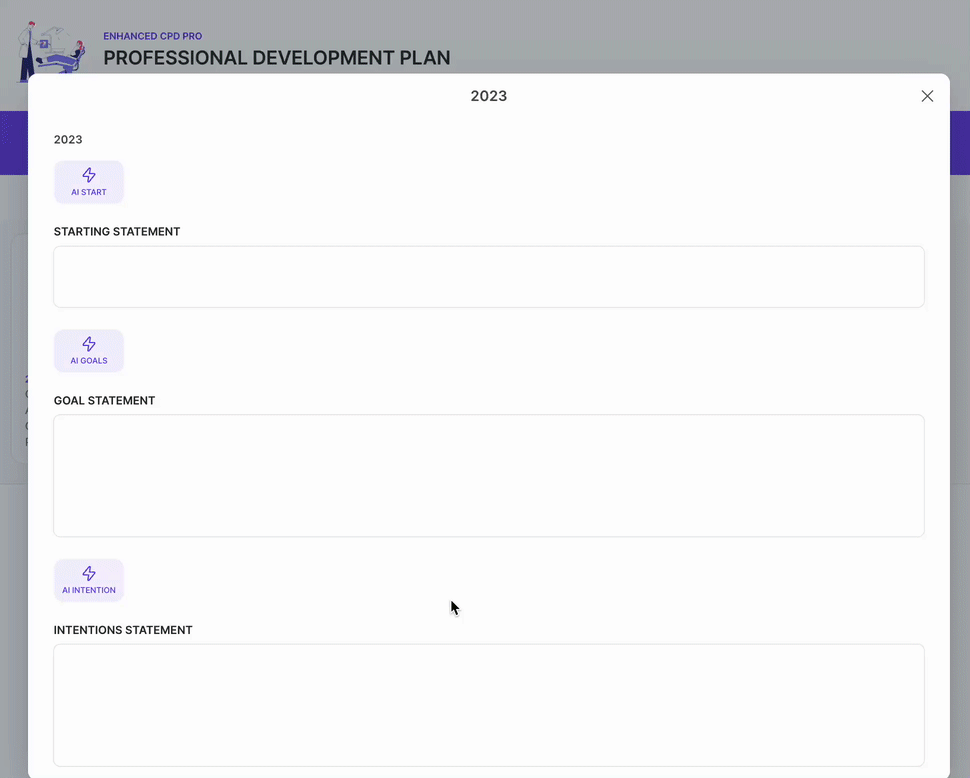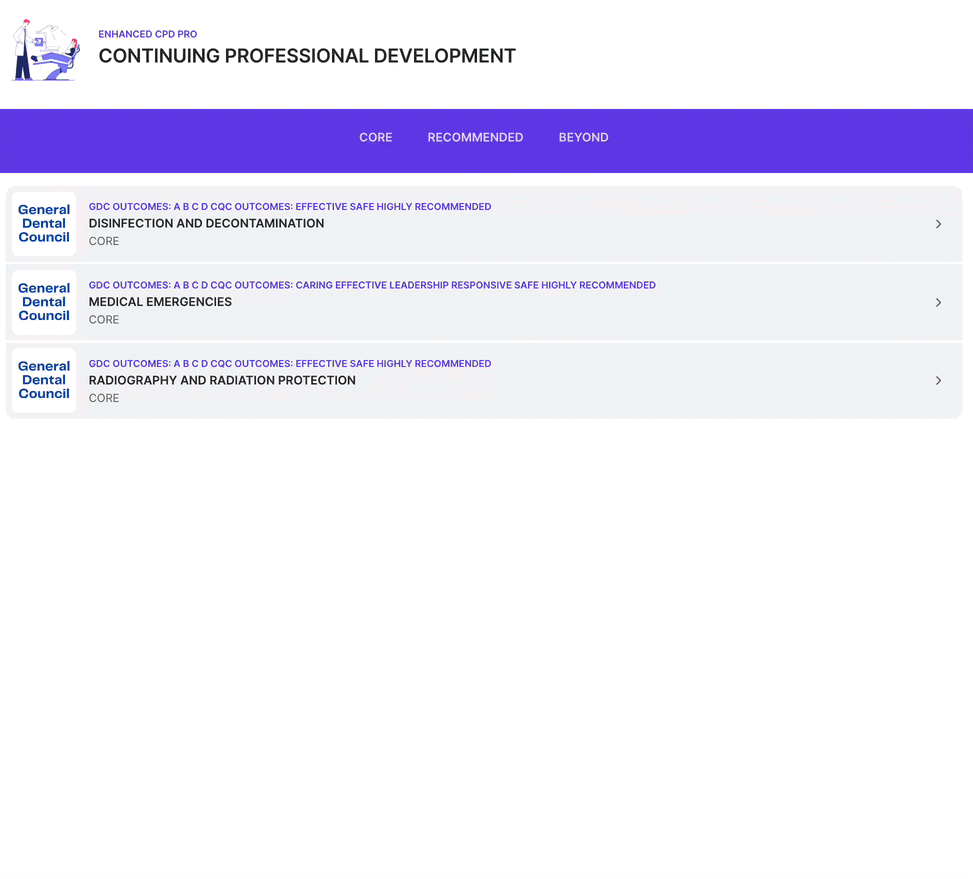 DO
Dynamic Learning:
Make Your CPD Count
---
Linked directly to your PDP, your CPD takes on a new value as each activity takes you a step closer to achieving your stated goals. Unlimited access to 3000+ Enhanced CPD courses, all of them at or beyond the expected level set by COPDEND.
REFLECT
Insightful Reflection:
Unleash the Power of Your Mind
---
Transform your learning experience into a journey of self-discovery and growth. Our AI intuitively interacts with your course's content, helping you generate profound reflective notes. It's designed to inspire your thoughts, not replace them, sparking deeper insights into your experiences, outcomes, and future practice. With our app, you're not just learning - you're evolving, becoming more insightful and adaptable. Engage with your reflections today, for a more knowledgeable tomorrow.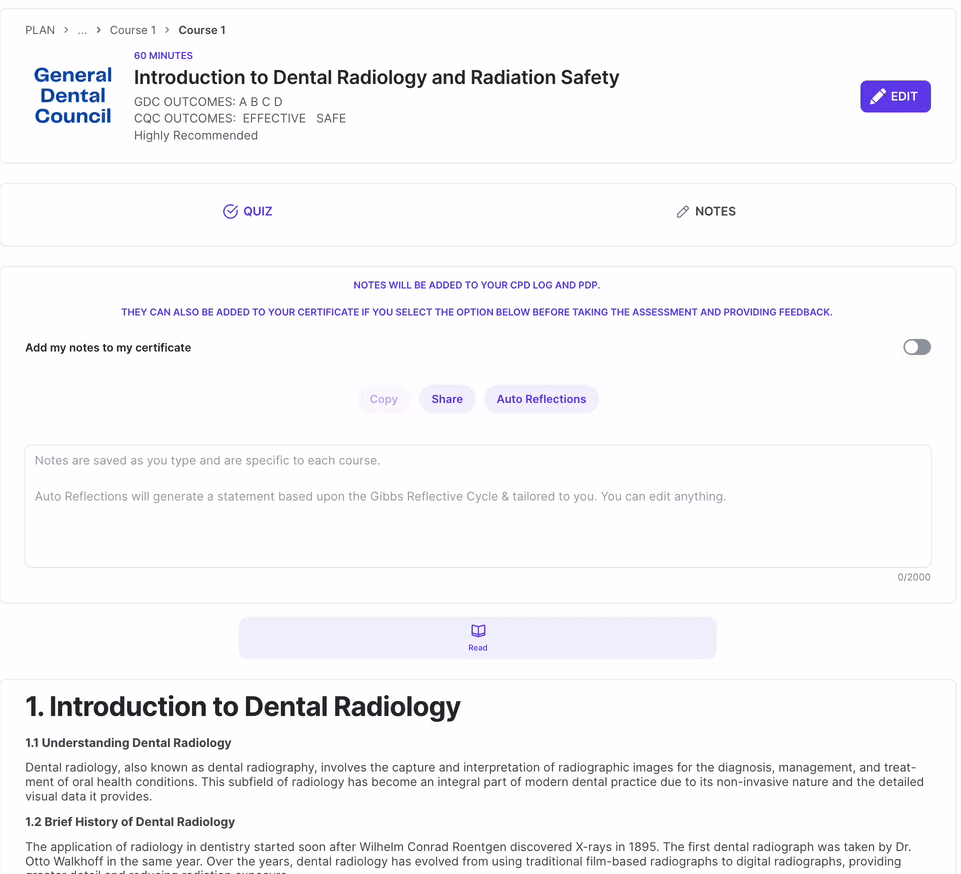 RECORD
Effortless Documentation:
One-Stop-Record
---
Maintaining a detailed log of your activities doesn't have to be tedious. Our app turns record-keeping into a breeze. All completed courses, their details, and certificates are neatly organised in one place. Even certificates from external sources can be uploaded, offering a holistic view of your achievements. Get real-time statistics on completed hours and import records from other CPD providers.
One app, all records - your single source of truth for CPD.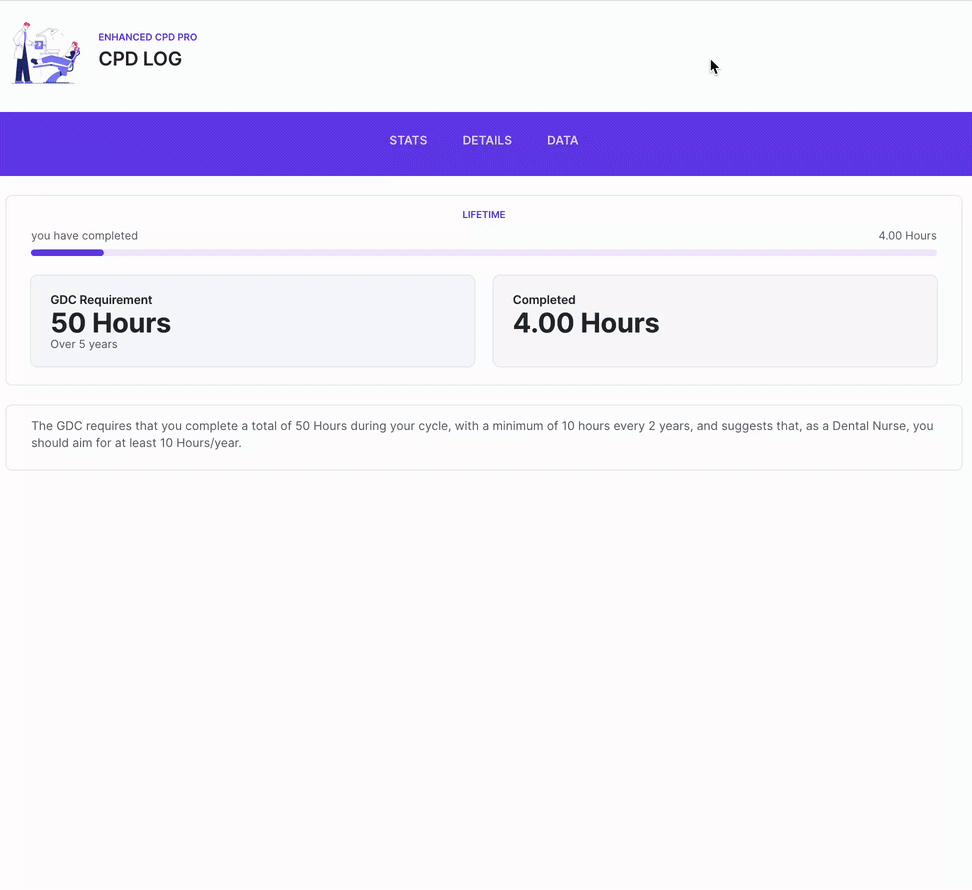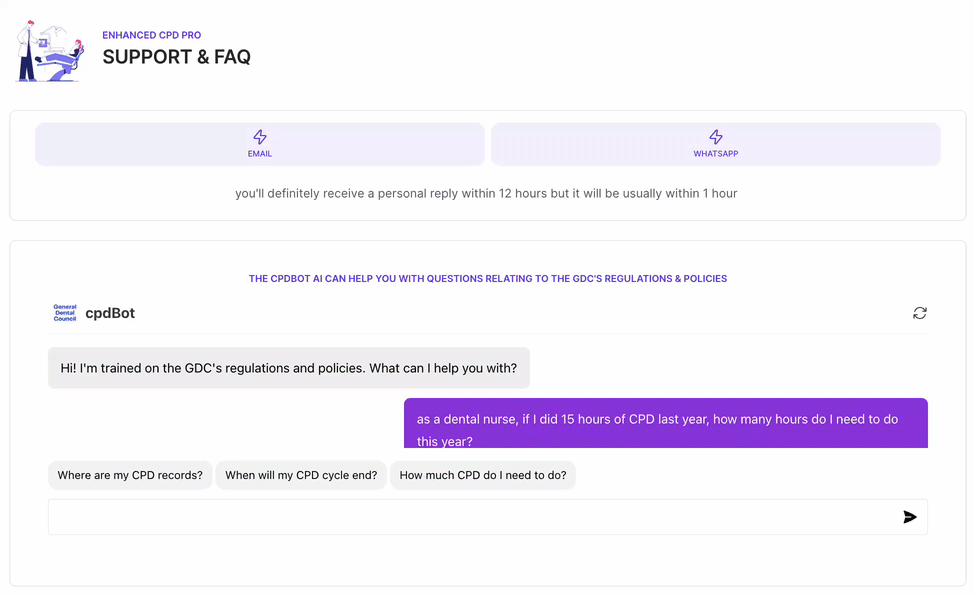 SUPPORT
WE'RE HERE FOR YOU
---
Enhanced support is built-into the app.
Contact us and expect a response within an hour or less.
The app works on all devices. Access is free and immediate. Why waste time?
Terms & Conditions1. IntroductionWelcome to https://app.cpdpro.org.uk ("Website"), a service of Dental CPD Services Ltd (referred to as "Company", "we", "us", or "our"). The Website is designed to assist dental professionals in managing their Continuing Professional Development (CPD).Please read these Terms and Conditions ("Terms") carefully before using our Website. By accessing or using the Website, you agree to be bound by these Terms and all terms incorporated by reference. If you do not agree to all these terms, do not use the Website.2. EligibilityThe Website is intended for users who are at least 18 years old. By using this Website, you represent and warrant that you are at least 18 years old. If you do not meet these requirements, you must not access or use the Website.Account RegistrationRegistration is free, and users gain access to at least one free course, subject to change at our discretion. To register, users are required to provide certain personal information, including name, email, date of birth, and GDC number. It is important that you provide us with accurate, complete, and current information for you and keep this information up to date.4. User ContentUsers can post information related to their CPD, careers, and goals. All User Generated Content ("UGC") belongs to both the user and the Company. We have the right to use, copy, modify, delete in its entirety, adapt, publish, translate, create derivative works from and/or sell and/or distribute such content and/or incorporate such content into any form, medium, or technology throughout the world without compensation to you.5. SubscriptionWe offer a subscription to the app, which includes a 7-day free trial. Users can cancel their subscriptions at any time either from within the app or by emailing dental@cpdpro.org.uk. No refunds will be provided.6. Links to Other WebsitesOur Website may contain links to third-party websites or services that are not owned or controlled by us. We have no control over, and assume no responsibility for, the content, privacy policies, or practices of any third-party websites or services.7. Breach of Terms and TerminationWe reserve the right, without notice and in our sole discretion, to suspend or terminate your account and/or to block your use of the Website if you violate these Terms. No refunds will be provided in the event of suspension or termination due to a breach of these Terms.8. Governing LawThese Terms and your use of the Website are governed by and construed in accordance with the laws of England & Wales applicable to agreements made and to be entirely performed within England & Wales, without regard to its conflict of law principles.9. Changes to TermsWe may modify these Terms at any time without notice to you. It is your responsibility to review these Terms periodically for changes. By continuing to use the Website, you agree to any changes to these Terms.
Privacy PolicyLast Updated: July 15, 2023Personal Data We CollectAt Dental CPD Services Ltd, we collect Device and Connection Information, including but not limited to IP address, device type, and operating system. We may also gather Usage Data which includes information on how our service is accessed and used.We only collect personal information you choose to provide, which may include contact information like your name, email address, and phone number, and billing information for service purchases.Our Commercial or Business Purposes for Collecting Personal DataWe use your Personal Data for various purposes, such as:- Providing, maintaining and improving our Services.
- Processing transactions and sending related information including transaction confirmations and invoices.
- Communicating with you about products, services, offers, promotions, and providing news and information we think will be of interest to you.How We Share Your Personal DataWe may share your Personal Data with third-party service providers to perform tasks on our behalf and to assist us in providing our Services. These include payment processors, web analytics companies, and service providers for technical and customer support.We may also share your Personal Data when required by law or in the context of a business transfer. We do not sell your Personal Data to third parties.CookiesWe use cookies and similar technologies to provide our services, understand how our service is being used, and customize the experience for our users. The types of cookies we use include Essential Cookies, Functional Cookies, and Performance/Analytical Cookies.You can manage your cookie preferences through your browser settings.Data Security and RetentionWe use appropriate security measures to protect your Personal Data from unauthorised access, use, and disclosure. However, no method of data transmission or storage is 100% secure. We retain your Personal Data for as long as necessary to provide our services, comply with legal obligations, or for other legitimate purposes.European Union Data Subject RightsIf you are a resident of the EU, you have certain rights under the GDPR regarding your Personal Data. These include the right to access, correct, delete, restrict the use of, or object to the processing of your Personal Data. To exercise these rights, please contact us at dental@cpdpro.org.ukWe may transfer your Personal Data to countries outside the EU under the protection of standard data protection clauses adopted by the European Commission.